Makeup by Rihanna
Makeup by Rihanna
We love her voice! We love her independent look, the colourful hairstyle, and of course the everchanging and stylish 'Makeup by Rihanna' dazzle us all! Why is it so? She is an exciting phenomenon. So that, it's obvious that her sexy and wild style reveals itself in her makeup history. Let's take a look at what were the strongest makeup movements, from the beginning of her career, and how she ended up creating her own makeup-line!
Grammy Award-winning singer, songwriter, actress, sex symbol! – This is all Rihanna! She is a real pop icon. Besides being one of the best-selling artists of all time she has released eight consecutive platinum studio albums! Although, it's not only her voice which made her so popular. We are definitely in love with her style, which is so unique, and attractive that she has received the Fashion Icon lifetime achievement award from the Council of Fashion Designers of America in 2014. So it's not a miracle that she is adored, followed, and loved by thousands of fans whose watching her each fashion and makeup move!
Ice Princess
So let's start from the beginning! Everybody knows the once popular makeup movement which was about to give you the look of clear, cold beauty, an "ice princess". Well, it appeared in the history of makeup by Rihanna too. The basic of this style is to use cold colours! Silver or white eyeshadow on your eyelids is a must, some delicate pink blush to your cheeks and a little pale pink lipstick or lipgloss to your lips, and you are already ready with the 'ice princess' look. Nineties-style eyeshadow shades, princess look; 2010 was featured by this trend in Riri's life. She used this makeup style frequently during her appearance on the red-carpet, stage and galas too.
Absolut Red
Why is it that the red lipstick never seems to go out of style? It is classic, elegant, versatile, and always provides hot appearance for its wearer. Whether you're just in the mood to have fun, or you're going to a formal ball, red lips are often the best choice. Believe it or not, she swears on it too, although, speaking of her wild style, we could say that there's no such thing as too much when it's about 'makeup by Rihanna'. She mixes the red lipstick with vivid red hair, this combination provides her with a gonzo, passionate, glamorous air, which we can say is the real Rihanna's makeup look. If you are brave enough, you should give it a try!
Pin-up Girl
If it's Pin-up, it's never enough! In 2011, the 1940's-1960's pinup look featured the stylish 'makeup by Rihanna', provided it gave her a super sexy appearance. What do we need to know about this makeup style? The essence of it is the lash line. In case you want to reach a real professional look, bring in the liquid eyeliner too. A good, strong brow is also a characteristic of the pin-up or rockabilly look. Finally, lips lips lips! Bright, big, beautiful red lips are a staple in pin-up fashion. Red lips have been a part of the look since the dawn of time and there is no way you can skip this step. Do you want to doll yourself up when you go out? Try this mascara, and the success will be guaranteed!
Nude Love
Has Rihanna ever looked better than when she did with a scraped-back hair, and neutral-toned makeup, at the Grammys 2015? The nude makeup was always stylish, and we can all agree that it always will be! The creation of this specific makeup requires more work than it seems at the first glance, but it is still manageable and provides a moderate but still charming look. Here comes a few tip, so that you can bring out the best from this style. Note that, it only requires pale colours. Use beige or peachy eyeshadow, a little delicate pink blush to your cheeks and nude lipstick or lipgloss. If you use a soft peachy blush and a tonal brown eyeshadow to subtly contour, it lets your skin to take the focus. You should definitely try this makeup for occasions when you want to look impeccable, like business dinner, or work.
Real Extreme
In the past few years, if we should characterize the makeup by Rihanna, we might use the word extreme. It does not only feature her in the field of clothing but every once in a while, it appears in her makeup too. She doesn't boggle at colourful lipstick or eyeliner, and that is one of the reasons why we adore and love her so much.
Fenty Beauty
After all this, we cannot be surprised that Rihanna's foray into the makeup world happened quite early. She created a series of products back in 2013 and 2014. The first product she has created, was RiRi Woo, a lipstick. After years of waiting, Rihanna's makeup line Fenty Beauty finally becomes a reality. In 07.09. 2017, it was eventually introduced to the audience, and we can conclude that the "Makeup by Rihanna" as a notion is officially marked in the history of makeup.
Would you like to have such a beautiful makeup as Rihanna's?  If your dream is to acquire the knowledge of creating professional makeup, apply for our makeup course and became a professional yourself! If you want to prepare perfect makeup at home you should also try the karaja makeup products!
by Alexandra Magos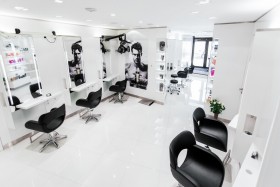 SZABÓ IMRE HAIR & BEAUTY – PEST
1056 Budapest, Belgrád rkp. 26.
+36 1 318 0410
+36 70 635 2235
pest@szaboimre.hu
Nyitva tartás:
hétköznap 07:00 – 20:00
szombaton 08:00 – 16:00
vasárnap zárva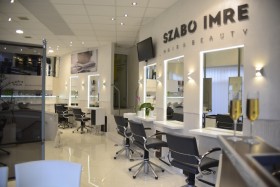 SZABÓ IMRE HAIR & BEAUTY – BUDA
1013 Budapest,Krisztina krt. 45.
+361 212 4407
+36 70 63522 26
buda@szaboimre.hu
Nyitva tartás:
hétköznap 08:00- 20:00
szombaton 08:00 – 16:00
vasárnap zárva